Recent on-chain data indicates a surge in profit-taking transactions for Ethereum, which could have bearish implications for the asset's price.
Ethereum Profit-Taking Volume Reaches Highest Levels Since January
Data from on-chain analytics firm Santiment reveals a significant increase in profit-taking activity within the Ethereum market. The "ratio of on-chain transaction volume in profit to loss" is used as an indicator to compare current profit-taking transfers with loss-taking ones.
This metric analyzes the previous selling price of each coin being moved or sold and compares it to its current price. If the previous sale occurred at a lower price than the current movement, it is considered part of the profit-taking volume. Conversely, if the last selling price was higher, it contributes to the loss-taking volume.
The chart below illustrates this ratio trend over six months: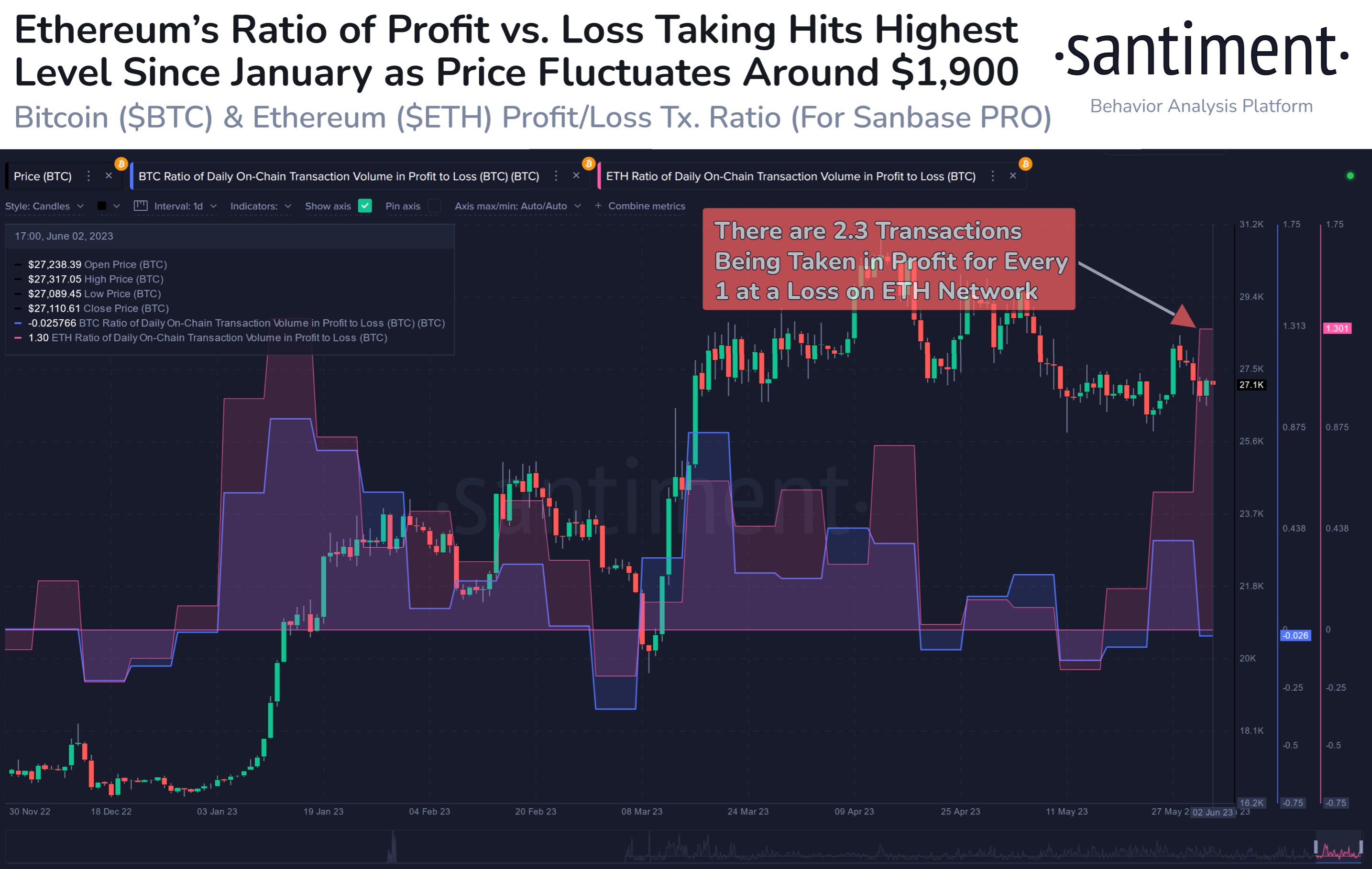 The recent value of this metric has been consistently high | Source: Santiment on Twitter
As shown above, there has been an upward trend in Ethereum's ratio between profit and loss transaction volumes over recent days. Currently, this metric reflects highly positive values.
A positive value indicates that there are more profit-taking transactions occurring compared to loss-taking ones. Therefore, given its green values now, it suggests that profit-seeking activities dominate the market.
During yesterday's spike in this ratio, it reached a peak value of 1.3, indicating that there were 2.3 times more profit-taking transfers than loss-taking ones on the blockchain.
This metric has not been this high since January when Ethereum experienced its initial rally. Historically, when investors engage in significant selling to secure profits, it exerts bearish pressure on the cryptocurrency's price.
As seen in the chart, back in January, the rapid upward trajectory of Ethereum slowed down when profit-taking peaked.
Following yesterday's surge in profit-taking transactions, the price was above $1,900. However, since then, it has dropped below this level—suggesting that profit-taking may already be impacting Ethereum's price negatively.
Santiment believes that for Ethereum to make progress towards reaching $2,000 again, this ratio needs to cool down.
Ethereum Price
Currently tradingSponsored Product around $1,800 at the time of writing and experiencing a 2% decline over the past week,
ETHUSD hasn't shown much movement recently | Source: ETHUSD on TradingView
Featured image from Kanchanara on Unsplash.com; charts from TradingView.com and Santiment.net
#Ethereum #Bearish #Signal #ProfitTaking #Transfers #Spike