The Bitcoin Binary Coin Days Destroyed (CDD) has remained at very low levels recently, according to on-chain data from the analytics firm Glassnode. During the 2021 bull run, this indicator attained high values. To understand the CDD metric, it is necessary to look at the concept of "coin days" first.
Whenever 1 BTC stays stationary on the blockchain for a day, it accumulates one coin day. If a coin that has been unmoved on the network for a while suddenly transfers, its coin days counter would reset back to zero and those previously accumulated are said to be "destroyed." The CDD measures how many total coin days are being reset throughout the network each day.
A high value in this indicator implies that there is currently movement from long-term holders (LTHs), who have held their BTC for at least 155 days and tend to accumulate large numbers of coin days. Whenever they make transfers, it registers as a spike in CDD.
In context with current discussion, what's interesting isn't just CDD but rather its modified version called Binary CDD which tells us how much it compares with historical average value of metric; either below or above which gives two possible outcomes: 0 or 1 respectively.
Trend In Bitcoin Binary CDD Over Last Few Years
The chart below shows trend in seven-day average Bitcoin binary CDD over last few years: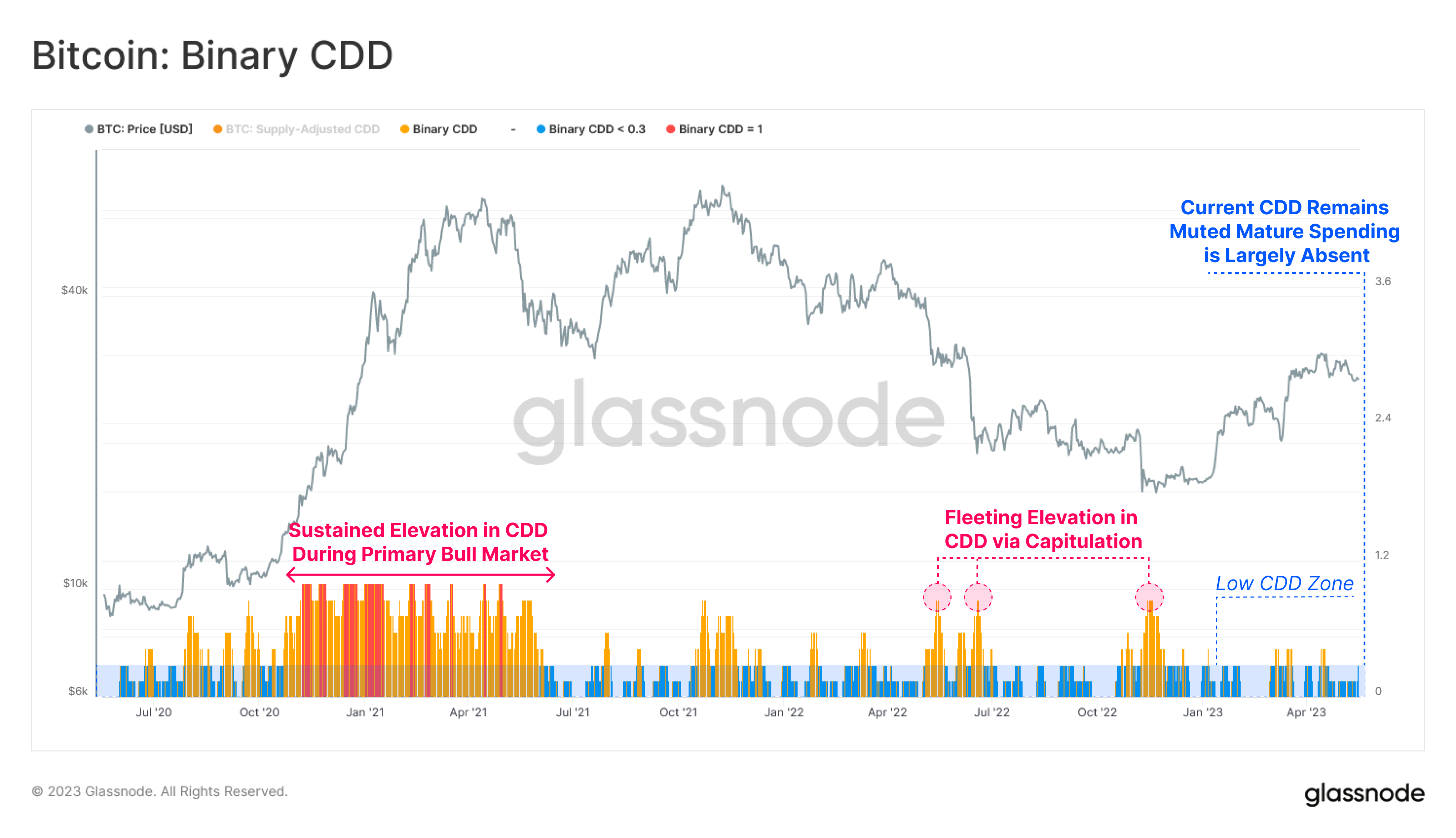 The value of metric seems low lately | Source: Glassnode On Twitter
The seven-day average Bitcoin Binary CDD has had a low value for some time now, indicating that there hasn't been significant destruction of coin days in the market recently. This suggests that LTHs haven't made any moves out of the ordinary despite notable price increases over recent months.
Transfers from LTHs can have significant implications for the sector since they are generally considered to be most resolute bunch in the market and even their selling could lead to negative consequences. During 2021 bull run, when BTC was at its peak, it saw seven-day average binary CDD stay near one which implied that LTHs were selling with full force; however this isn't case during current rally as these diamond hands continue holding onto bullish conviction while waiting for better opportunities later on.
This is constructive for long-term prices because investors who hold such convictions will not sell easily or quickly, providing stability and confidence to other investors who may be considering entering into cryptocurrency markets.
BTC Price
At present, Bitcoin is tradingSponsored Product around $27,300 which represents a decline of 1% over last week:

The asset continues consolidating | Source: BTCUSD On TradingView
Featured image from Jievani Weerasinghe on Unsplash.com; charts from TradingView.com & Glassnode.com


#Bitcoin #Binary #CDD #Stays #Heres #Means