The Ethereum network has experienced a significant drop in its average transaction fees, which have fallen by almost 70% since early May. This decline is an important indicator for the asset and could signal changes in user behavior on the blockchain.
Understanding Average Transaction Fees
Average transaction fees refer to the total amount of fees (in USD) that users attach to their transfers. The value of this metric depends on how much traffic the Ethereum network receives at any given time.
When there is low traffic on the blockchain, users do not need to pay high amounts of fees as there is enough capacity available to handle transactions quickly. However, during periods of congestion when competition among users increases, those who want their transfers processed faster will attach higher fees than others. As a result, average fees can rise sharply.
The following chart shows how average transaction fees on the Ethereum blockchain have changed over recent weeks: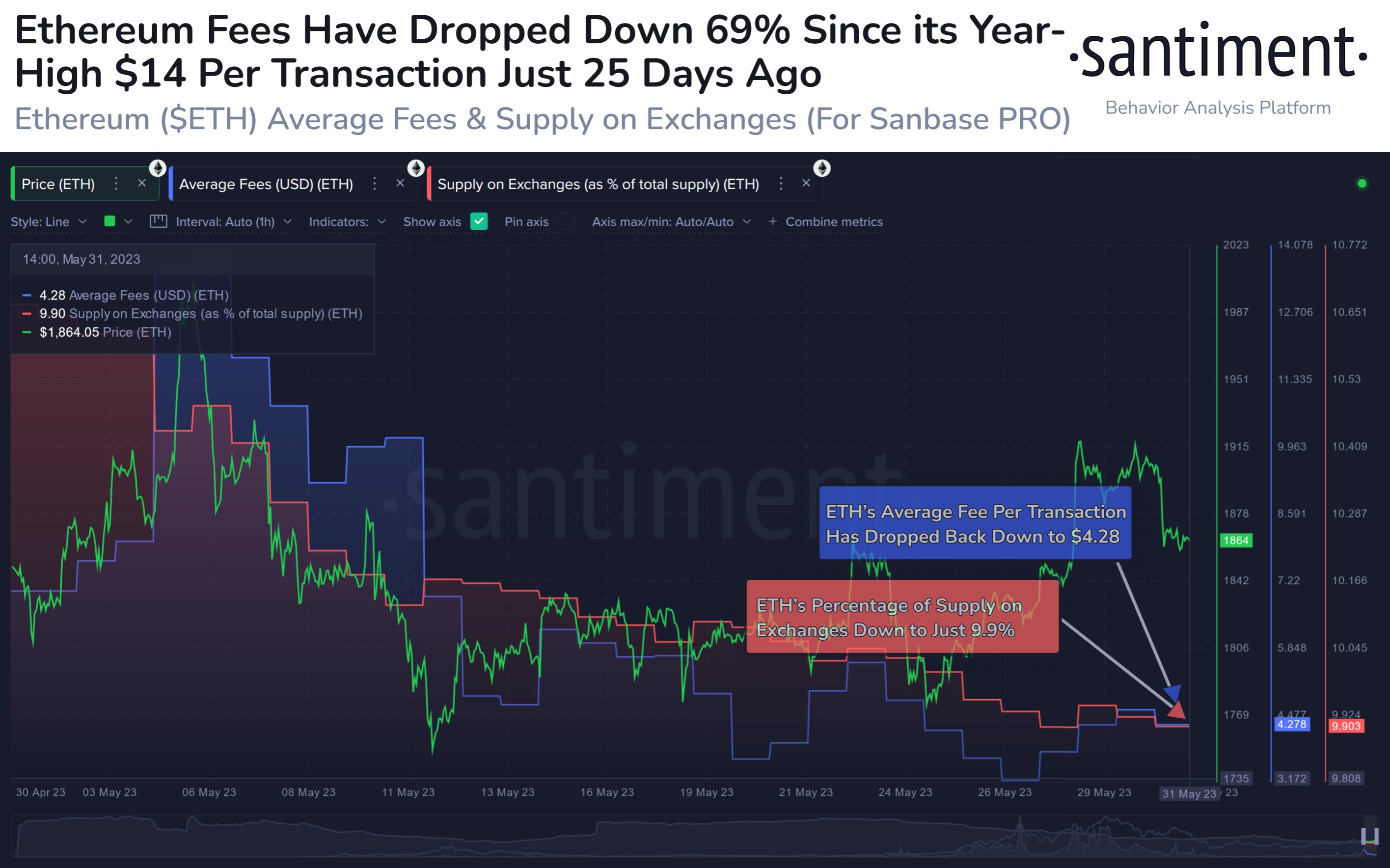 The value of this metric has declined significantly recently | Source: Santiment on Twitter
In early May, average transaction fees surged along with a rally in ETH's price towards $2,000. Such rallies attract more attention from traders and can cause congestion on the network due to increased activity levels. High transaction activity indicates many active traders are present in the market – necessary for sustaining sharp price action like a rally.
After the price peak, average transaction fees began to decline and have since dropped by 69% from $14 to just $4.28. This suggests that there is currently less activity taking place on the Ethereum blockchain than during the previous period of high prices.
The Impact on ETH Price
Ethereum's current tradingSponsored Product price is around $1,800 – up 3% in the last week. While low attention on the coin can be negative for any sustainable price move to build, it also means users are more likely to use the chain for utility purposes as lower fees make transactions affordable.
In conclusion, while declining transaction fees may indicate reduced network congestion and user activity levels in some cases, they could also encourage greater adoption of Ethereum's blockchain technology for practical applications such as decentralized finance (DeFi) or non-fungible tokens (NFTs).
#Bullish #Signal #Ethereum #Average #Fees #Declines #Early #Bitcoinist.com