According to on-chain data from Glassnode, the majority of Bitcoin exchange inflows are currently coming from investors holding their coins at a loss. This is particularly true for short-term holders who have been contributing to these loss inflows.
The Significance of Exchange Inflow Volume
The "exchange inflow" metric measures the total amount of Bitcoin that's flowing into centralized exchanges' wallets. Typically, when investors want to sell their holdings, they deposit them onto these platforms. Therefore, high levels of exchange inflow can indicate a selloff in the BTC market while low values imply bullishness as holders may not be selling much at present.
In this context, however, it's important to note that what matters most is another related metric called "exchange inflow volume profit/loss bias." As its name suggests, this indicator tells us whether current exchange inflows come from profit or loss holders.
If this metric has a value greater than 1, then most of the incoming volume contains coins held by those making profits. Conversely, if it falls below 1 threshold level then there is dominance by those experiencing losses.
Trends in Profit/Loss Bias Over Time
A chart showing trends over time indicates that for most rallies since January 2021 until now (October), Bitcoin exchange inflow volume profit/loss bias had remained above one suggesting that most flows came from profitable positions and made sense given how rallies often entice many holders looking to cash out gains.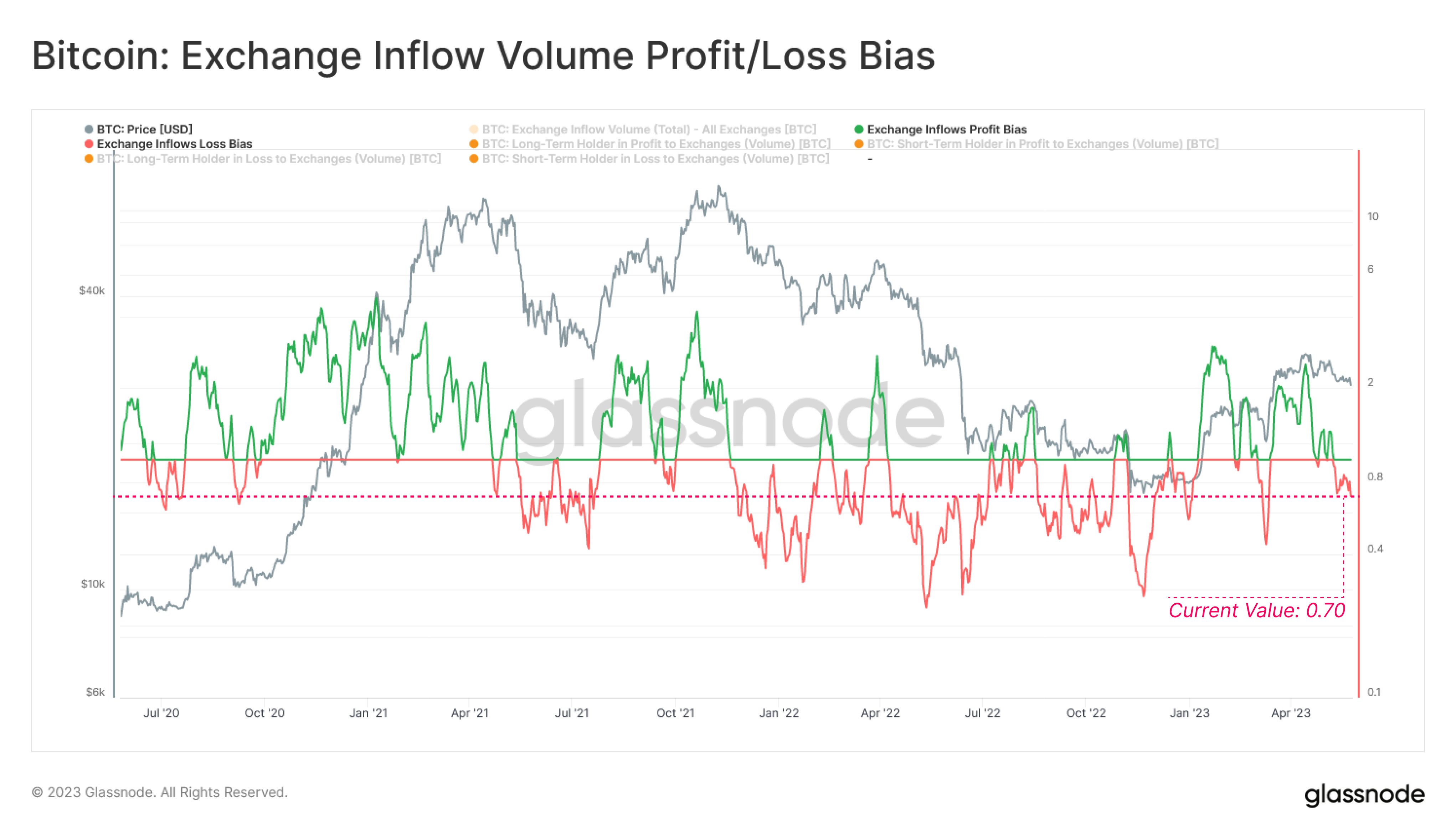 The value of the metric seems to have observed some decline in recent days | Source: Glassnode on Twitter
However, there were a couple of exceptional instances. In March 2021 when Bitcoin's price fell below $20,000 level and recently after its price stumbled below the $27,000 mark.
The Bias of Long-Term Holders (LTHs)
Glassnode data shows that long-term holders' bias towards profits has been strong lately. The indicator for LTHs had a value of 1.73 indicating their preference for profitable positions while short-term holders (STHs) seem to be experiencing losses with an indicator value at just .69 which is almost identical to the market average.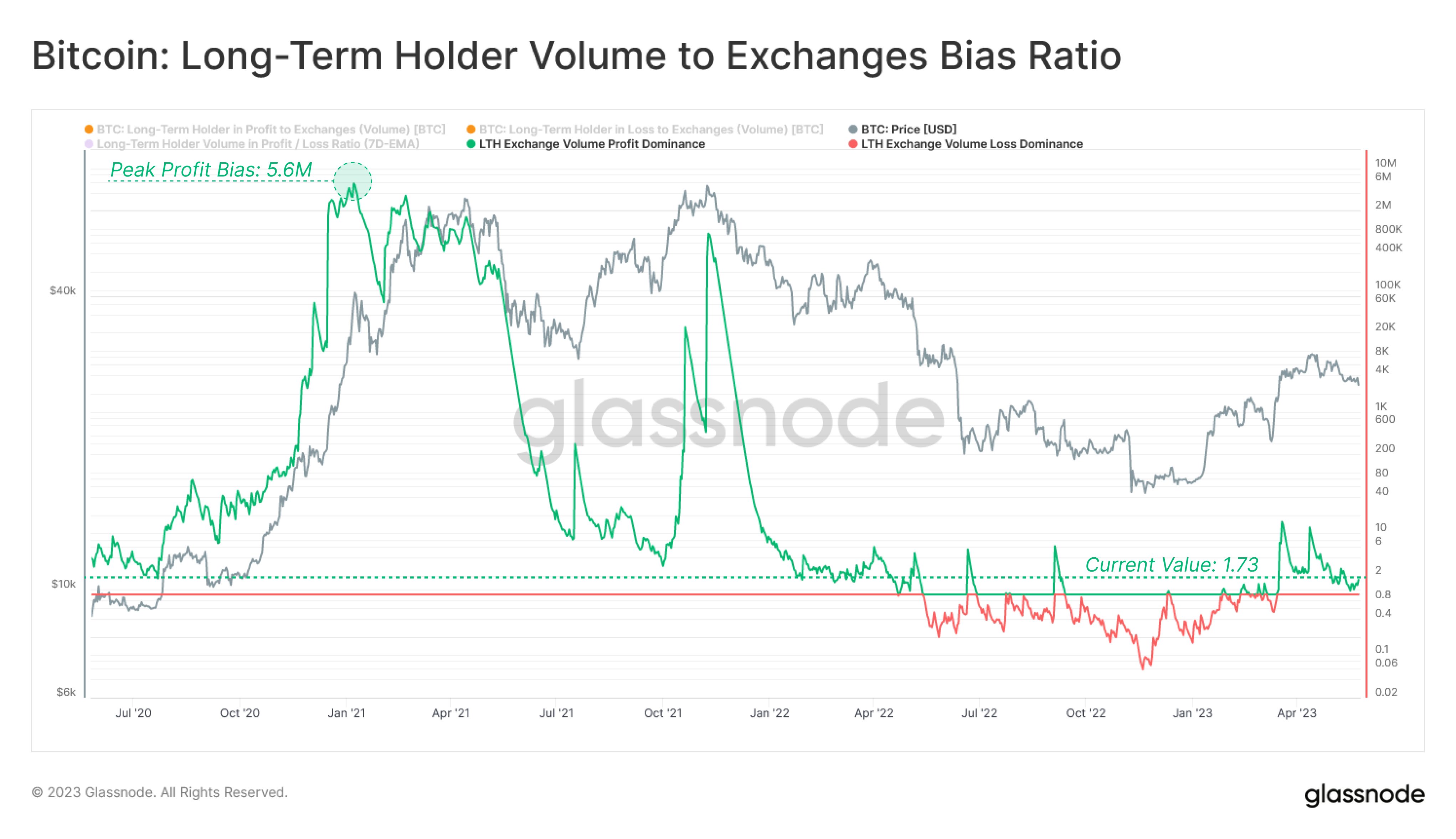 Looks like the indicator has a positive value right now | Source: Glassnode on Twitter 
Cleansing Weak Hands from Market?
This trend suggests that STHs who bought near or at top prices are contributing more selling pressure than LTHs currently. This could mean weak hands are being cleansed from markets as they capitulate and sell. While the indicator hasn't dipped as low as it did in March, this could be a sign that Bitcoin is nearing its local bottom.
Bitcoin's Current Price
As of writing, Bitcoin is tradingSponsored Product around $26,400 which marks a 1% drop over the past week.
BTC has struggled recently | Source: BTCUSD on TradingView 
The featured image comes from 愚木混株 cdd20 on Unsplash.com while charts are sourced from TradingView.com and Glassnode.com respectively.
#Bitcoin #Exchange #Inflows #Coming #Loss #Holders #Weak #Hands #Exiting