On-chain data reveals that Ethereum has experienced a massive inflow of $505 million into Binance in the past day, indicating that selling may be taking place. This increase in supply on exchanges is the largest observed since the day before the Merge, according to data from on-chain analytics firm Santiment.
The "supply on exchanges" metric measures the percentage of total Ethereum supply currently held in centralized exchange wallets. An increase in this indicator implies investors are depositing coins for selling-related purposes, which can have bearish consequences for asset prices.
Conversely, decreasing values suggest a net amount of ETH exiting these platforms and holders accumulating cryptocurrency – bullish for long-term value. The chart below shows trends in Ethereum's supply on exchanges over recent months: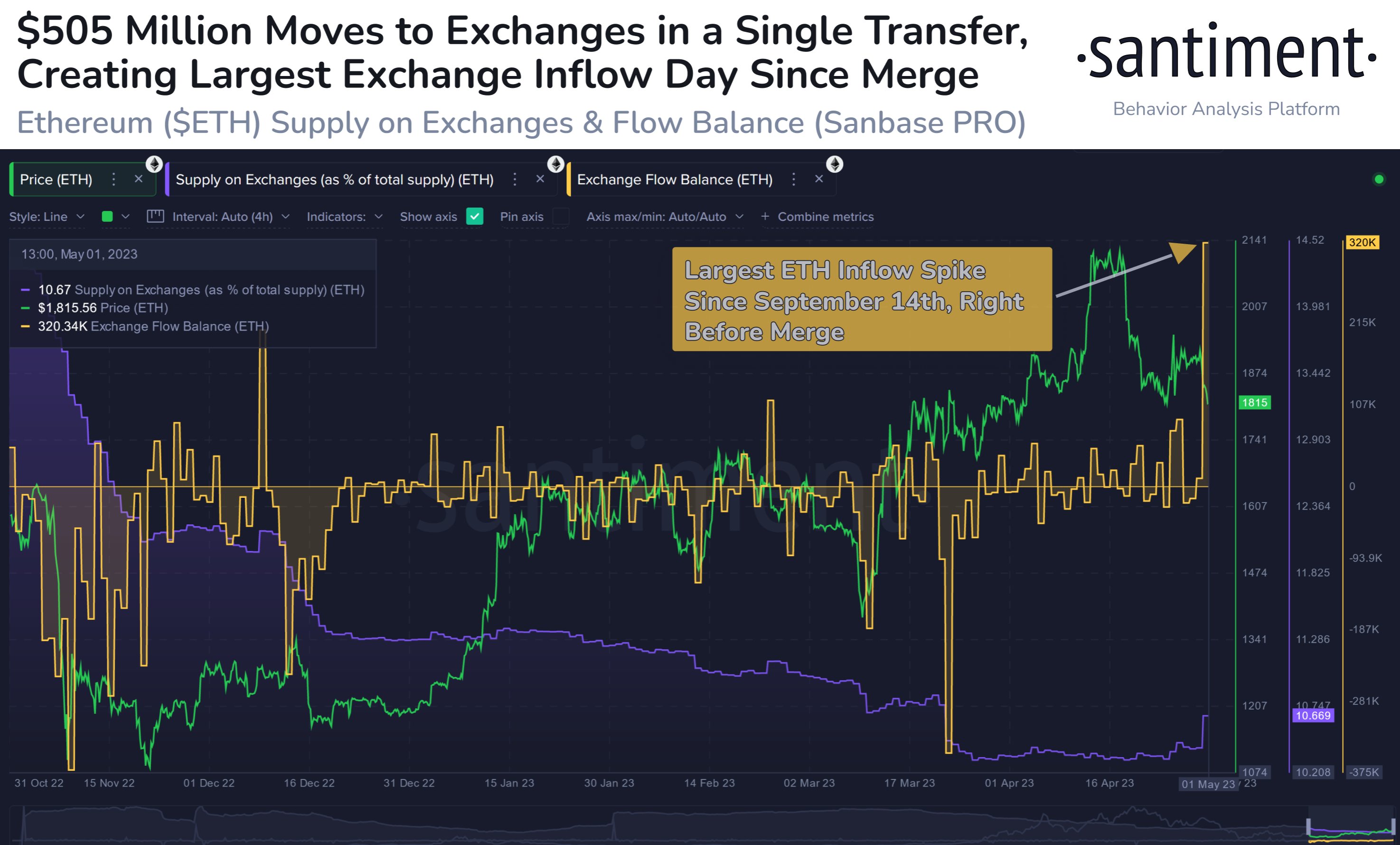 As illustrated above, there has been a sharp rise in Ethereum's supply on exchanges during the past day as investors deposited significant amounts of ETH onto these platforms. Another relevant metric is "exchange flow balance," which tracks changes happening within the supply-on-exchanges indicator by measuring net coin flows into or out of exchanges.
During this period, exchange flow balance saw large positive values suggesting inflows far surpassed outflows with around 320k ETH ($584.6m at current price) entering wallet addresses associated with major crypto tradingSponsored Product venues such as Binance and Coinbase Pro.
This spike represents an unprecedented surge compared to previous periods except September 14th when proof-of-stake consensus mechanism transition took place; however one transfer contributed most significantly: Whale Alert reported that an unknown wallet transferred 273781 ETH (worth approximately $504986096 USD) to Binance – one of the largest transactions between an unknown wallet and exchange observed in five years.
It is unclear whether this whale has made the deposit with intentions to sell or use other services offered by Binance. However, if selling is indeed their goal, then this massive inflow could negatively impact Ethereum's price.
At present writing time, ETH trades around $1,800 – up 1% over last week. The chart below shows recent trends:
In conclusion, Ethereum's supply on exchanges has seen a significant increase recently due to large deposits onto tradingSponsored Product venues like Binance. This trend can have bearish consequences for asset prices as investors may be depositing coins for selling-related purposes; however decreasing values suggest holders are accumulating cryptocurrency which can be bullish long-term value prospects.

#Ethereum #Sees #Inflows #505M #Binance #Sign #Selling